Songwriters Agree: Cabaret Is A Great Venue for Nurturing New Work

Bistro.com April 19, 2020
Songwriters Agree: Cabaret Is A Great Venue for Nurturing New Work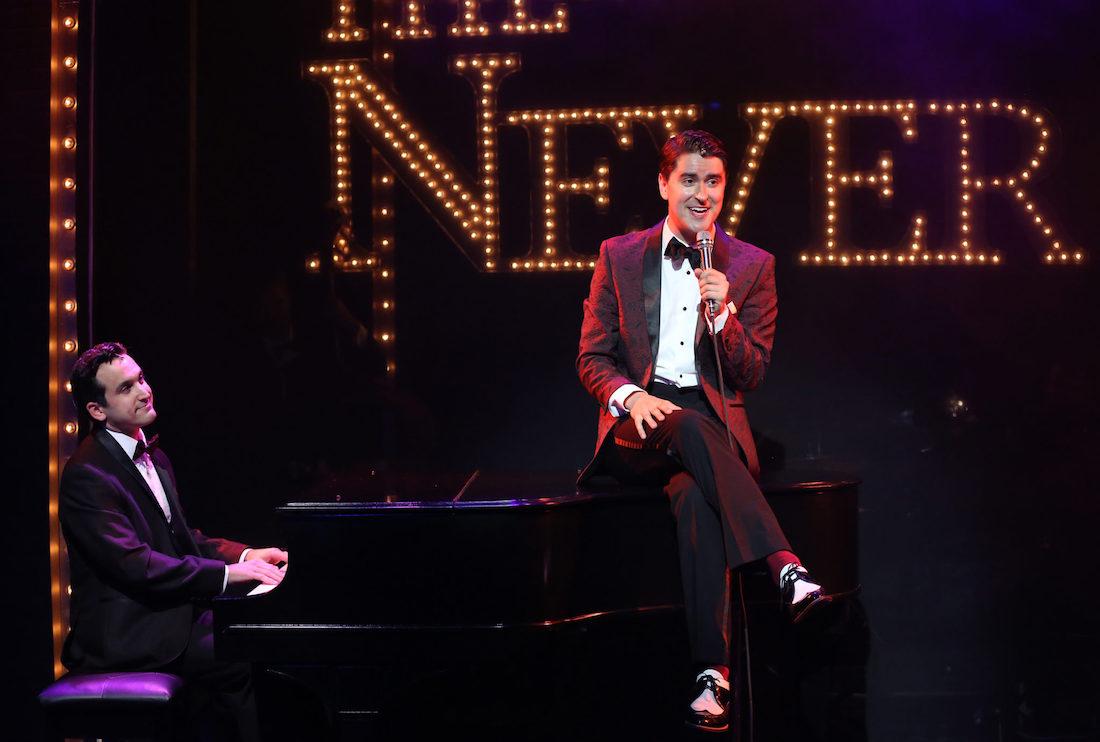 Songwriters Agree: Cabaret Is A Great Venue for Nurturing New Work
April 19, 2020 | By Alexis Greene
Cabaret is intimate. Or as Tovah Feldshuh says, "A good nightclub act is a bit like a date: it has a sexual factor in it, it has an entertainment factor in it, and it has the knowledge that people are eating while they're watching."
In a theatre, there's an invisible wall between an actor and her audience, and chances are nobody is eating.
But despite those differences, cabaret can be the platform where the most vital elements of a stage musical—its songs—first find an audience, and where songwriters who want to bridge both worlds can hone their craft and maybe change musical theatre as we know it. More and more, songwriters forge careers in cabaret, where they can try out their numbers before trying the world of musical theatre.
Barry Keating began his New York career at Manhattan Theatre Club's MTC Cabaret, long before his Starmites got to Broadway in 1989. He states, "If you want to promote things and get people excited, you do a cabaret."
Steven Lutvak, by his own account, has spent "billions" of years playing cabarets, years that fed his music and lyrics for the 2013-2014 Tony Award-winning hit, A Gentleman's Guide to Love and Murder. In cabaret, says Lutvak, a songwriter learns if a song is working. "It's as simple as that."
Click here to watch, from the 2014 Tony Awards, a rollicking scene from A Gentleman's Guide to Love and Murder which won the Tony for Best Musical.
A song is sort of like a one-act play, and in a musical all the songs together help build a narrative. If you're doing it right, there's both movement within a song that adds to the movement within the larger musical. In a cabaret setting, ideally you're telling 12 or 15 mini-musicals. In a cabaret setting you want to be telling stories, but you're doing it with many fewer tools than in a musical. The songs that land best I think are the ones that have a beginning, middle and end. One-act plays. Distilled.
-Steven Lutvak
Hear for yourself, a song as mini-musical: Steven Lutvak's "Unexpected Complications."
Sometimes, of course, bridging the worlds of cabaret and theatre presents challenges. "I am constantly being told my songs are too long for musicals," says Joe Iconis, who wrote the music and lyrics for every awkward teenager's bible, Be More Chill. "But I just have this craving for theatre performers to stand centerstage in a special light and really sing about what's going on. I think that musical theatre is sort of programmed: it's all about getting to the next thing—that relentless energy. Which I love, but I also love being able to pause and really relish a moment. And I think that comes from my love of cabaret."
Hear Joe Iconis sing his own "Helen Sharp," inspired by the film Death Becomes Her, at the Laurie Beechman Theatre in a 2017 show.
But differences between cabaret and theatre don't deter Iconis, who is currently writing the book, music, and lyrics about legendary gonzo journalist Hunter Thompson (working title: The Unauthorized Hunter S. Thompson Musical). Iconis has already tried out some of his songs at Feinstein's/54 Below and is developing the show with La Jolla Playhouse.
"I would not have the career that I do without being part of the cabaret world," he says. "The only reason I got any job I've ever gotten is because of performances I've done in the cabaret space that people have seen or heard about."
Click here and watch, from the making of the cast recording for Be More Chill: "Michael in the Bathroom" sung by George Salazar, music and lyrics by Joe Iconis.
Cabaret is the heart and soul of Mark Sonnenblick's Midnight at The Never Get, the musical he co-conceived with the actor Sam Bolen. It was a performance of the entire show at Don't Tell Mama in 2014 that brought Michael Chase Gosselin on board as a producer. Gosselin helped steer Midnight to the 2016 New York Musical Festival and a year later to the Provincetown Inn, where a conference room was converted to a cabaret-like space. In 2018 the show traveled to Off-Off-Broadway's York Theatre Company, where the brothers Christopher and Justin Swader designed a glitzy cabaret setting for the York's small proscenium stage.
Set in Greenwich Village during the 1960s, in a gay bar called The Never Get, the musical explores the love between Trevor, a singer, and Arthur, a songwriter, who create a nightclub act in the bar's back room. "The show is constructed to be told in the style of a cabaret act," says Max Friedman, who has directed it at several venues. "That structure changes throughout the piece, but the entry point is this person singing songs and telling stories the way that great cabaret entertainers do. The show is meant to be experienced like a cabaret. It is really a love affair with cabaret and with song-writing."
Lesson learned from the York production: "The show and the writing," says Friedman, "could stand on their own, without that production concept." Missing at the York, says the director, was "the immersive experience" of being in a club. Now, one of the team's goals is to give New York audiences that experience. As the Roundabout did with its 1998 and 2014 revivals of Cabaret at Studio 54, Friedman hopes that Midnight's producers will find a performance space where audiences can feel part of Trevor and Arthur's cabaret act. Get a taste of Never Get:
Cabaret can birth a musical, but sometimes a musical launches a cabaret act, as happened with Tovah is LEONA!—the club act conceived by Tovah Feldshuh with director Jeff Harnar and musical director James Bassi.
The tale begins in the 1980s, when Tovah, then in L.A., met Alex Lippard in an acting and directing workshop. The two became friends, and at some later point Tovah asked Lippard to create a vehicle for her. The result, around 2005 or '06, was the musical The Queen of Mean: The Rise and Fall of Leona Helmsley, about one of at least two real estate moguls New Yorkers love to hate. Ron Passaro wrote the music, David Lee the lyrics (with additional lyrics from Lippard), and Lippard and Lee wrote the book, based on Lippard's adaptation of an unauthorized biography by Ransdell Pierson. Lee calls the show "a big, brassy New York story."
"I said I'd give my eye teeth to play Leona," Tovah recalls, "and I signed on to the project."
A staged reading of The Queen of Mean finally took place in 2016 at The Actors' Temple, with Tovah proudly in the lead, playing Leona as a girl, as a young woman, and finally a disgraced hotelier who goes to prison for federal tax evasion. But, says Tovah, "The show was not going to get fully capitalized. It was an extravagant show. It needed a 30-piece orchestra, 12 or more in the cast." Would-be producers attended the reading, according to David Lee, currently managing director for Lynchburg, Virginia's, Endstation Theatre Company. But no major backers came forward.
So Tovah made an offer. "I said to the boys, whom I admire and respect deeply, 'Would you give me permission to sing your songs and fashion them into a nightclub act, a one-person vehicle? At least your songs can get out there. It's a way of advertising them, a way of putting melodies in front of people.' "
The result is a club act during which Leona Helmsley returns from Purgatory for 60 minutes to set the record straight—and by the way sing a few numbers from The Queen of Mean and a few from the American Songbook. She asks for a retrial, makes the audience her grand jury and puts forth her case with theatrical bravado. "All my after-life," Leona says, "I've had two ambitions: to get out of Purgatory and star in my own cabaret. Tonight I can feel that both those dreams may be coming true."
Tovah is LEONA! made its debut in 2018 at Feinstein's/54 Below, played there again in 2019 and in clubs around Florida (it's slated for Boca Raton's Mizner Park Cultural Center in October 2020). As for its impact on The Queen of Mean, at one point according to Feldshuh and Lee, the creatives toyed with turning their musical into a one-person show. "We've been approached by big-time Broadway producers," says Lee, although for now, he concedes, "we have to go back to the drawing board."
Leona will never get a new trial. But with her 60 minutes of cabaret fame, she might launch The Queen of Mean onto Broadway. Watch a clip from Tovah is LEONA!