Emily Mann and Alexis Greene are having an event at the Drama Book Shop
Wednesday, November 8
7:30 - 8:30 pm EST
Emily Mann: Rebel Artist of the American Theatre
Join us at the Drama Book Shop for an inspiring event with Alexis Greene and Emily Mann
RSVP (Book Purchase Required for entry)
Emily Mann: Rebel Artist of the American Theatre
By Alexis Greene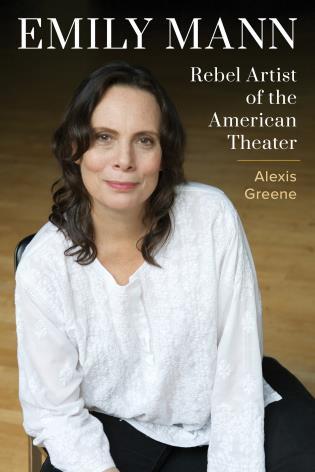 On September 18th, 2023 I had a wonderful conversation about her new play "The Pianist" at the Princeton Public Library in New Jersey.
Conversation: Emily Mann and Alexis Greene
A biography of this exceptional playwright, director, artistic leader, and advocate for women in the American theater. For three decades she was artistic director of the McCarter Theatre Center in Princeton, New Jersey.
From the Preface:
"One of my goals in writing a biography of Emily Mann has been to show that resistance can reside in defying preconceived assumptions of what a woman of the theater can stage or write or, finally, achieve. I also hope to show how Emily Mann's art and career can contribute to the discourse in the public square, a role that has become essential for American theater as it aims to be an influential part of the cultural changes enveloping the country. My chief goal, however, has been to write the life of a woman who has created unique art and along the way has wrestled with, learned from, and overcome personal trauma and illness. For centuries, the lives of women have been hidden: buried in diaries, letters, and in the day-to-day tasks that women undertook but few observed. This biography of Emily Mann brings one more woman's life into the light."
WHERE TO ORDER
Amazon
https://www.amazon.com/Emily-Mann-Artist-American-Theater/dp/1493060325
MY BIO
I am an author, biographer and arts journalist, with a special interest in plays and biographies by and about women in the theater. Currently I am working on the biography of a theater! -- the renowned Shakespeare Theatre Company in Washington, DC. In 2021 Applause Books published my biography of the American playwright and director Emily Mann -- "EMILY MANN: Rebel Artist of the American Theater." My biography of the off-Broadway producer Lucille Lortel -- "Lucille Lortel: The Queen of Off Broadway" -- was published in 2004 by Limelight Editions. I live with my husband, Gordon R. Hough, in New York City and in the Southern Tier of the Catskills, and there I have started to write true crime stories, a new writing adventure.
OTHER WRITING, OTHER PROJECTS
All told, I have written or edited more than ten books, most of them involving the work of women in the American theater. Before embarking on the biography of Emily Mann, I edited a collection of Yvette Heyliger's bold plays, What a Piece of Work is Man! Full-Length Plays for Leading Women. I am a member of PEN, The Authors Guild and the League of Professional Theatre Women (LPTW)--theatrewomen.org. Currently I am on the committee organizing the LPTW Gilder-Coigney International Theatre Award Program, which will take place virtually in February 2021 and bring together women who create theater all over the world, from Lebanon to Tanzania to India to the United States. My interview with the Lebanese theater artist Hanane Hajj Ali, who is the recipient of the Gilder / Coigney Award, will appear in American Theatre magazine in February.
I am also an arts journalist and have written for numerous national publications, including The New York Times, The New York Daily News, American Theatre Magazine, and Dramatics Magazine. My Ph.D. in Theater is from the Graduate Center of the City University of New York, and I have taught dramatic criticism at New York University and Marymount Manhattan College, among other universities and colleges.
LITERARY MANAGERS AND DRAMATURGS OF THE AMERICAS
Along the way I co-founded and was first president of Literary Managers and Dramaturgs of the Americas, the international organization serving dramaturgs and literary managers in the performing arts. LMDA, I am proud to say, has helped transform the American theater's approach to nurturing and supporting our dramatists. LMDA.org
A DETOUR FROM THEATER
In 2008, the economy imploded, and I took a five-year leave from theater to be Public Relations Director for the Community Environmental Center (CEC) in Queens, New York. This ground-breaking not-for-profit, which brought sustainability to New York City apartment buildings and homes, raised my own awareness of the urgency of fighting the causes of climate change.
WRITING TRUE CRIME STORIES
I was born and raised in New York City, but I have come to love upstate New York, where my husband, Dr. Gordon R. Hough, and I retreat when we can. There I have plunged into a whole new genre as an author: writing true crime stories. The Catskills, as it turns out, are rife with enough stories of betrayal and revenge to fill several books. I've completed one story, about a young woman who died in 1910, possibly murdered by her lover, and I am working on two more.